Nec SL2100 Telephone System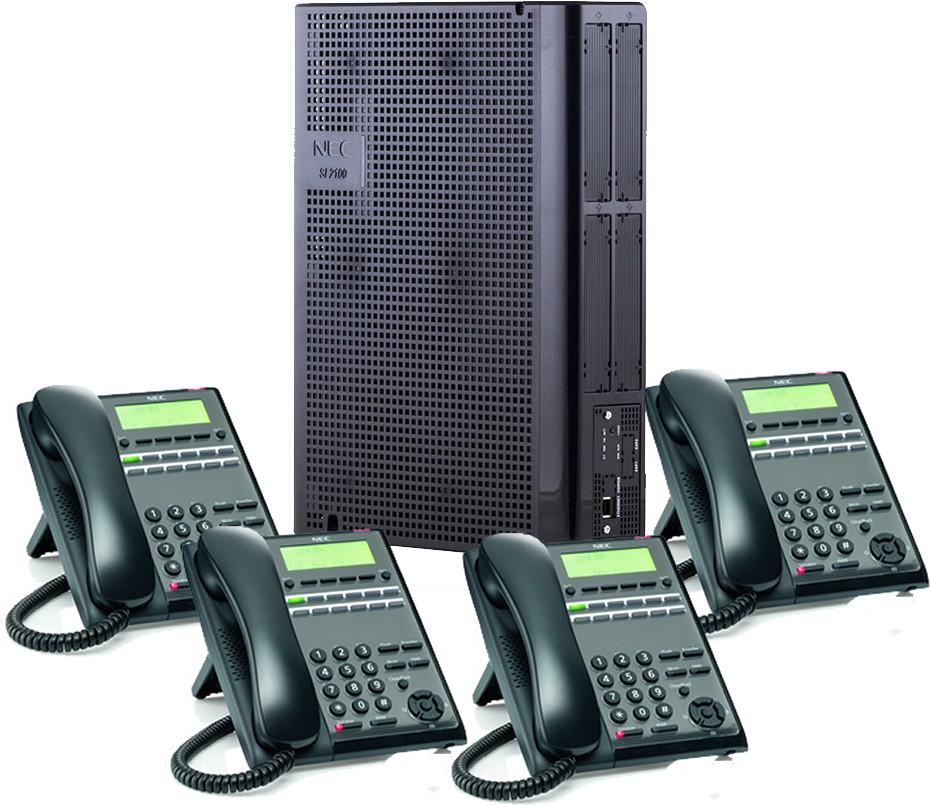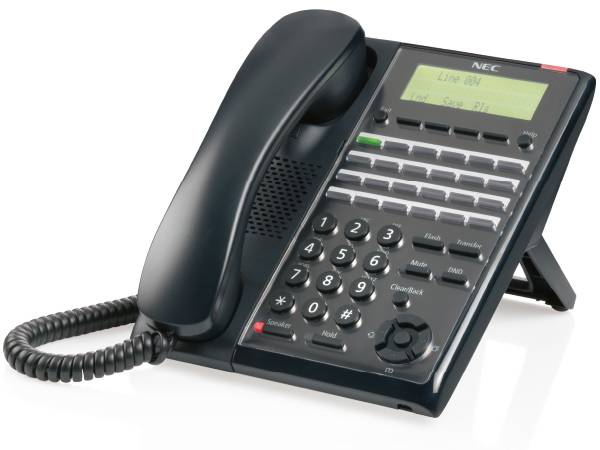 Digital Telephones
Elegantly designed and feature-packed
Customizable to meet employees' specific communications needs
Supports a wide-range of features which can help improve overall employee efficiency and productivity
Delivers maximum deployment flexibility and investment protection
Easy to use intuitive interface and an interactive user manual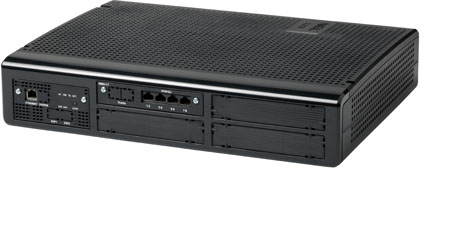 NEC SL2100
The NEC SL2100 is a Hybrid Digital/VoIP phone system incorporating the best of both worlds in a reliable and inexpensive communication solution.
Customized programming based on your unique needs

Customized printed labels

Prerecorded main greetings

Free standard Music on Hold

Advanced replacement of parts 

1 year warranty on equipment

Free technical support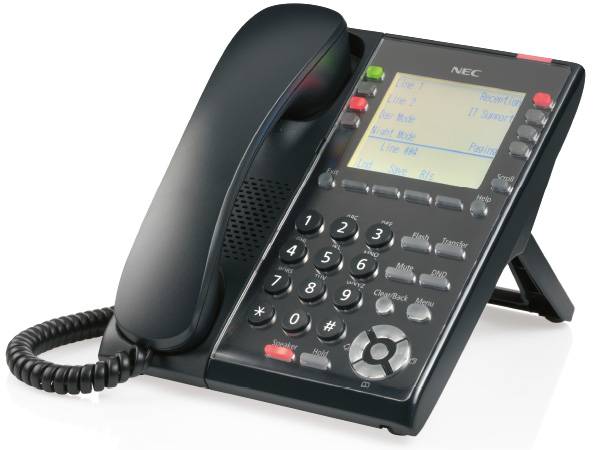 IP Telephones
Elegantly designed and feature-packed
Customizable to meet employees' specific communications needs
Supports a wide-range of applications which can help improve overall employee efficiency and productivity
Delivers maximum deployment flexibility and investment protection
Easy to use intuitive interface and an interactive user manual
SMART COMMUNICATIONS 
5 – 100+ USERS
The way we do business and the way we communicate is changing rapidly. Mobility has become the norm. Customer expectations have soared and budgets have shrunk.
The SL2100 galvanizes your team. In turn, it creates a positive customer experience that generates repeat business.
It's highly cost effective because there's more built-in. With VoIP capabilities, it puts Unified Communications within reach of small businesses or it can be used as resilient TDM solution with future-proof upgrade potential. It also presents considerable savings and functionality over and above alternative hosted solutions.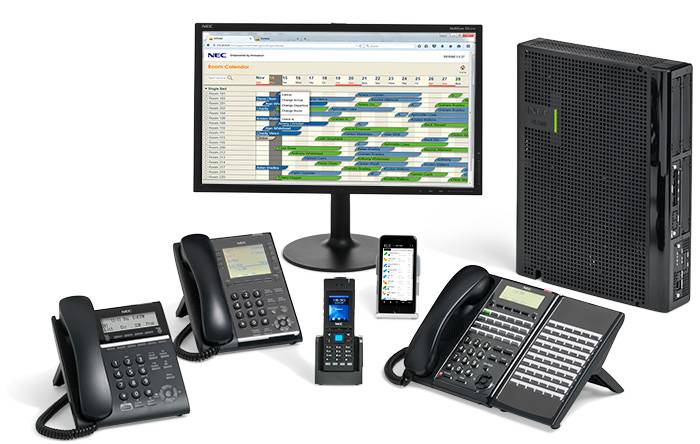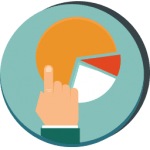 VALUE FOR MONEY
Powerful communications with a small business price tag that allows you to pay only for what you need. Completely scalable as your business grows.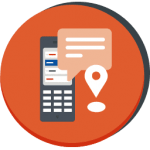 EASY TO USE
Intuitive applications and features your whole team can easily use to empower them to be more productive. The easy installation also means there's no downtime.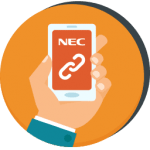 KEEP CONNECTED
Single number reach, DECT mobile handsets, built-in conferencing and voice-mail keeps colleagues and customers up-to-date and connected.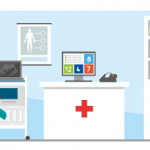 Healthcare
Doctors' offices, surgery centers and other healthcare organizations receive a high volume of inquiries.
Customized

 

recorded messages

 

give callers the option to route themselves to the right department or leave a message for prescriptions
Eliminate the expense of an answering service with email or

 

external message notifications

 

to appropriate personnel during off hours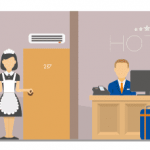 Small Hotels/Motels
Guests can customize services from guestroom messaging, wake-up calls and do not disturb plus have one-touch access to important services.
InHotel

 

enhances customer service levels: Faster check-ins, check outs; sharper response times
Complete hotel

 

room management: real-time status dashboard
Toll restriction

 

ensures phones are not used for long distance calling except by authorized personnel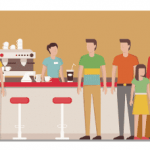 Food Service/Entertainment
Communicating effectively while you are mobile and servicing customers in a noisy, sometimes dimly lit environment or multiple buildings can be challenging.
Mobility options, from mobile handsets to smartphone SIP apps, keep you connected from anywhere
Backlit displays

 

are easily viewed in low lit areas
Auto Attendant

 

frees up staff to assist customers on-premises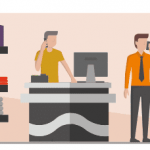 Retail
Handle incoming callers with ease while servicing in-store customers.
Pre-recorded message

 

options enable callers to quickly get to the information they need (store address, hours of operation, etc…) without interrupting service to in-store customers
While out on the floor, quickly find out information the customer needs by reaching out via a

 

DECT handset
Toll restriction capabilities

 

limits use of store phones for long-distance except for authorized personnel – saving the store money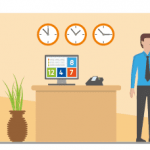 Small/Medium Organizations
Almost all SMBs require robust communication tools to service their clients.
Self-service options

 

allow callers to easily get to the person or department they want to reach without going through an operator
Ability to set up

 

multiple ring or department groups

 

ensures callers will be able to speak to a member of staff
Auto Attendant

 

can provide callers with information that is most frequently asked, such as, "when are you open?", "what is your address?", etc…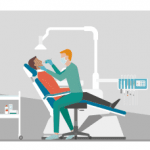 Dentist Offices
Dentist offices typically receive a large volume of incoming calls in the morning and it can be difficult sometimes to keep up. With the use of call groups, staff can:
Easily log in and out of a particular call group

 

to assist receptionist during peak calling hours
Handle fluctuating call volumes

 

at any time to ensure patients/callers are taken care of in a timely manner
Nec SL2100 Hotel Brochure
Nec SL2100 Business Brochure
Nec SL2100 Smart Brochure
Please Contact Us For A Quote